Paris MOU & Black Sea MOU CIC for damage stability on Oil, Chemical tankes and Gas Carriers
As from 1st September 2010 until 30 November 2010 Paris MOU and Black Sea MOU will perform Concentrated Inspection Campaign CIC to verify correct damage stability on oil tankers, chemical Tankers and gas carriers. In this post you will find the check list Paris MOU provided for this campaign and explanatory notes (i.e which vessels require to have loading computers. etc)

PSC Questionnaire
Extract from Paris MOU check list: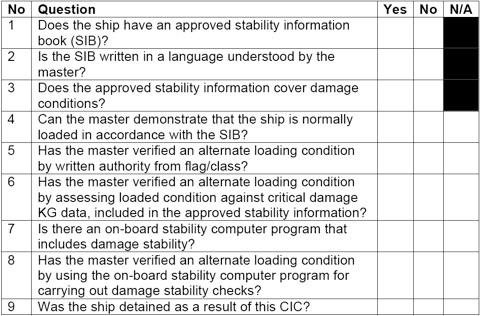 To download above questioner follow this link or visit Paris MOU web site.


Explanatory notes of above questionnaire

No:1 All cargo vessels with length > 24m
No:2 Same as vessel's workable language and/or ISM language.
No:3 All oil tankers> 150 GT
No:4 Cargo loading plan. ISM prosedures. Companies' operating procedures/forms/check lists.
No:5 Alternative hold loading, if accepted, must be stated in loading manual.
No:6 Cargo loading plan. ISM prosedures. Companies operating procedures/forms/check lists.
No:7 Sea going ships contracted for construction on or after 1st July 1998 classed as Category I*, with length more than 100m. For more info see UR S1.
No:8 Keep on board evidence of loading computer print outs for specific loadings or evidence according with ISM procedures.


*Category I Ships
• Ships with large deck openings where combined stresses due to vertical and horizontal hull girder
bending and torsional and lateral loads have to be considered;
• Ships liable to carry non-homogeneous loadings, where the cargo and/or ballast may be unevenly
distributed. Ships less than 120 metres in length, when their design takes into account uneven
distribution of cargo or ballast, belong to Category II;
• Chemical tankers and gas carriers.

Category II Ships
• Ships with arrangement giving small possibilities for variation in the distribution of cargo and
ballast, and ships on regular and fixed trading pattern where the Loading Manual gives sufficient
guidance, and in addition the exception given under Category I.