Record keeping of Ozone Depleting Substances should be maintained onboard after 1 July 2010. (Update)
According with MARPOL ANNEX VI Regulation 12
as from 1 July 2010
vessels must have a list and record book of Ozone Depleting Substances.
This is an update from our previous post with the addition of periodic survey requirements. Furthermore will find list of Ozone Depleting Substances, sample list of equipment, what has to be recorded in ODS record book, commercial names of ODS and in what category and restrictions are applicable to each of them. Finally we will be glad to assist you in the above
free of charge
.
Description of the Requirement
This regulation does not apply to permanent sealed equipment that have
no
connections that will allow the refrigerant to be recharged or discharge from this equipment. Also it is not applicable to small refrigerators for domestic use.

In the following
link
you can download sample list of equipment containing Ozone Depleting Substances produced by NK.

Also since 1 July 2010 vessels must have an Ozone Deleting Substances record book describing all of the following operations in kg without delay:

- Recharging full or partial, of equipment containing ozone depleting substances
- Discharge of ozone depleting substances to the atmosphere.
- Repair or maintenance of equipment containing ozone depleting substances
---Deliberate or Non-deliberate
- Discharge of ozone depleting substances to land based reception facilities

- Supply of ozone depleting substances to the ship


The Ozone Depleting Substances record book may be part of an existing log-book or in electronic form, but it has to be approved by the administration.

Crew must be informed not to release ODS in to the atmosphere. This should be documented on board. Either by placing a sign next to the equipment, documented info in the training manual, intracompany circular or even a sign board in engine control room.

Finally make sure that the surveyor will issue new Marpol Annex VI with updated information in the first periodical survey.

Period Leak Inspection (Update)

Additionally to the above a periodic leak inspection must be performed by the crew.

The following recommended inspection periodicity is not mandatory. If a company from past experience wants to implement deferent time intervals it can do so as long as they are justified.

I-- < 3 kg Bottle cooler, walk-in chambers, split A/C units Yearly
II-- 3 ≤ 30 kg Control room A/C, small provision chambers Quarterly
III-- 30 ≤ 300 kg Cargo ship accommodation A/C, provision rooms Monthly
IV-- 300 kg & over Cargo refrigeration plants, passenger ship A/C Weekly *


interval may be extended depending on the number of leaks being found.
The following inspection methods are recommended:
Water soap solution

Propane or butane flame color alteration

Electronic sensor detection apparatus

Fluorescent dye embedded to the refrigerant
Ozone Depleting Substances

- Chlorofluorocarbons (CFCs)
- Halon
- Carbon tetrachloride, Methyl chloroform
- Hydrobromofluorocarbons (HBFCs)
- Hydrochlorofluorocarbons (HCFCs) (R22, R141b)
- Methyl Bromide
- Bromochloromethane (BCM)

Although most of the above are not allowed to be used on board ships at the present time, HCFCs can be used on board ships until 2020.
Category 1 / Prohibited in new installations from 19/5/1995
Halon
R11, R12, R13
R111, R112, R113, R114, R115
R211, R212, R213, R214, R215, R216, R217

Category 2 / Prohibited in new installations from 1/1/2020
R21, R22
R31
R121 to R124
R131 to R133
R141 to R142
R151
R221 to R226
R231 to R235
R241 to R244
R251 to R253
R261 to R262
R271

Category 3 / No restriction apply
R290
R134a
R32
R404a
R407a, R407b, R407c
R410a
R413
R417
R507
R600
R717
CO2

How we can help


We can assist your company for the preparation of ODS record book,
free of charge
, and make list of ODS on board.

If you want to receive our newsletter please email us to mail@ancomaritime.com

References about our work can be found
here
.


Commercial Trade Names of Ozone Depleting Substances
Mixtures of Ozone Depleting Substances


Type / Trade Name -------------------------------Company------------------------------------------Composition------------------------------ ----------- ------ Ashrae - Discontinued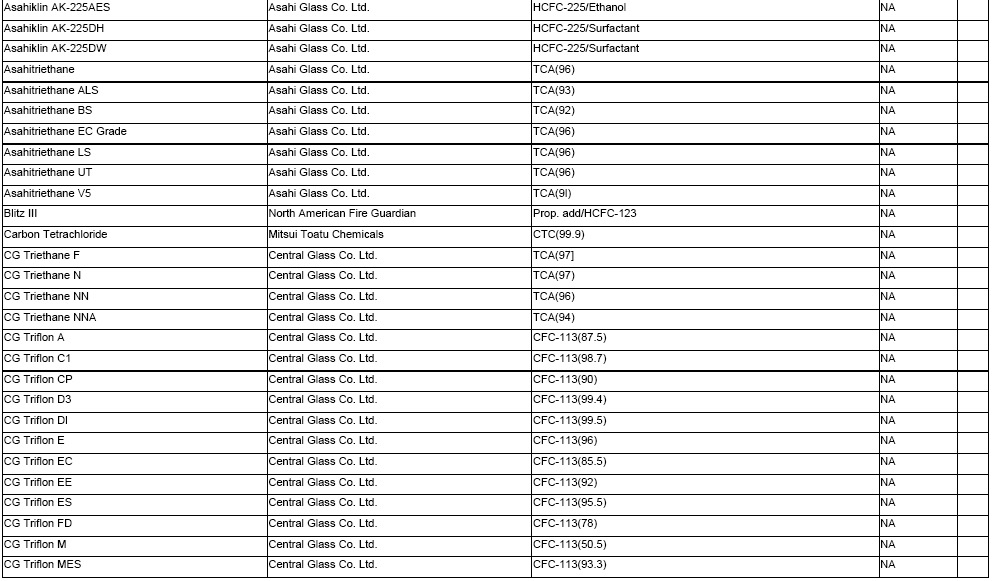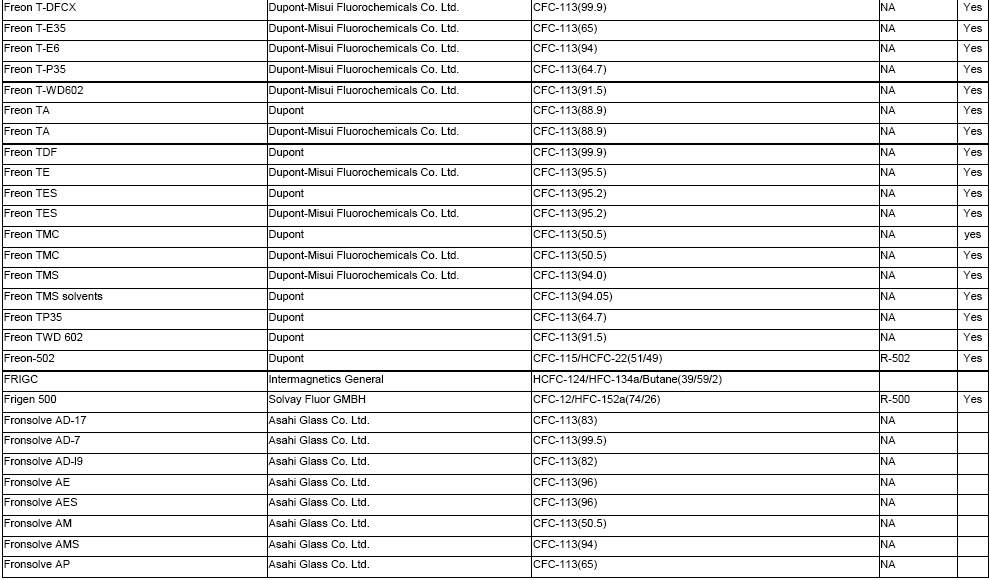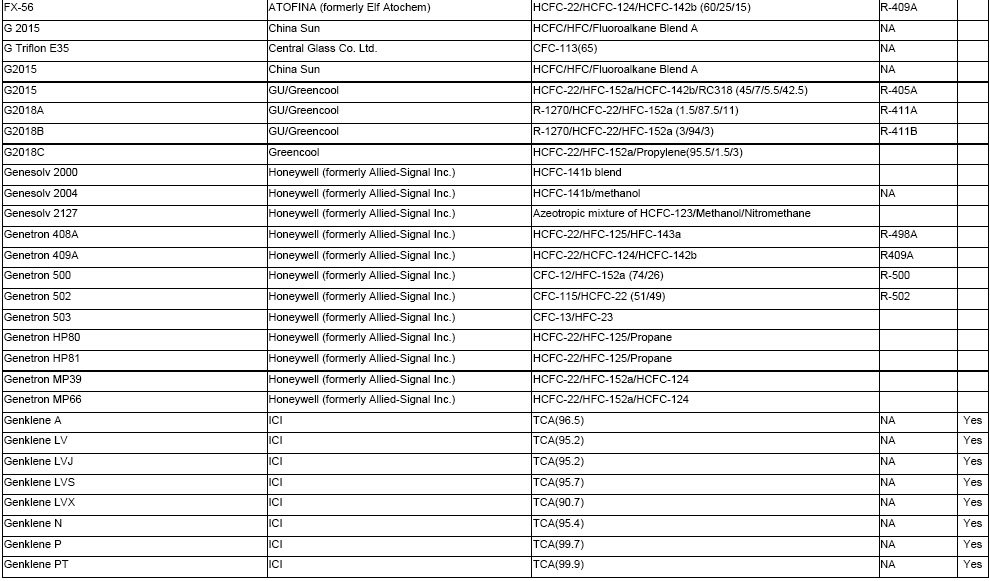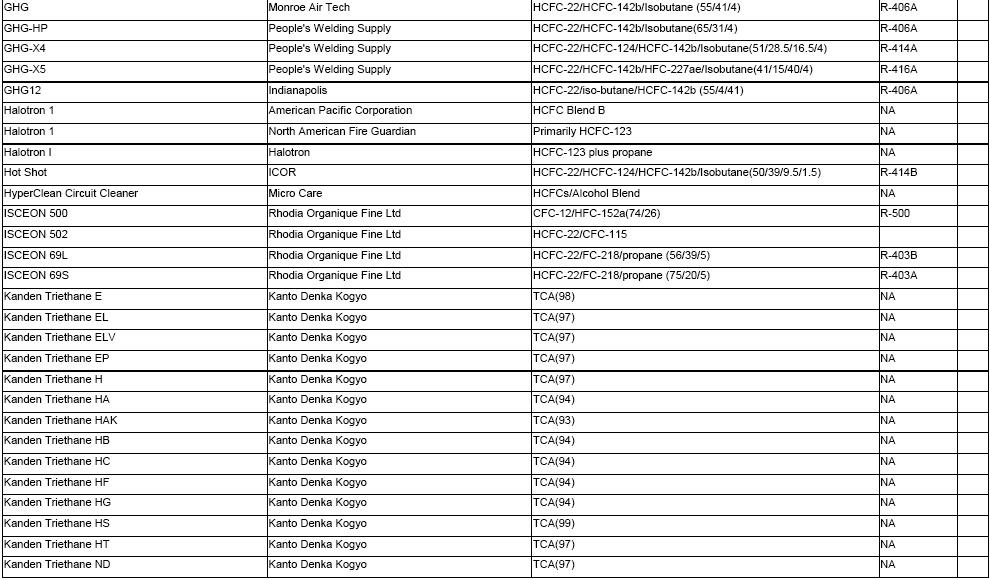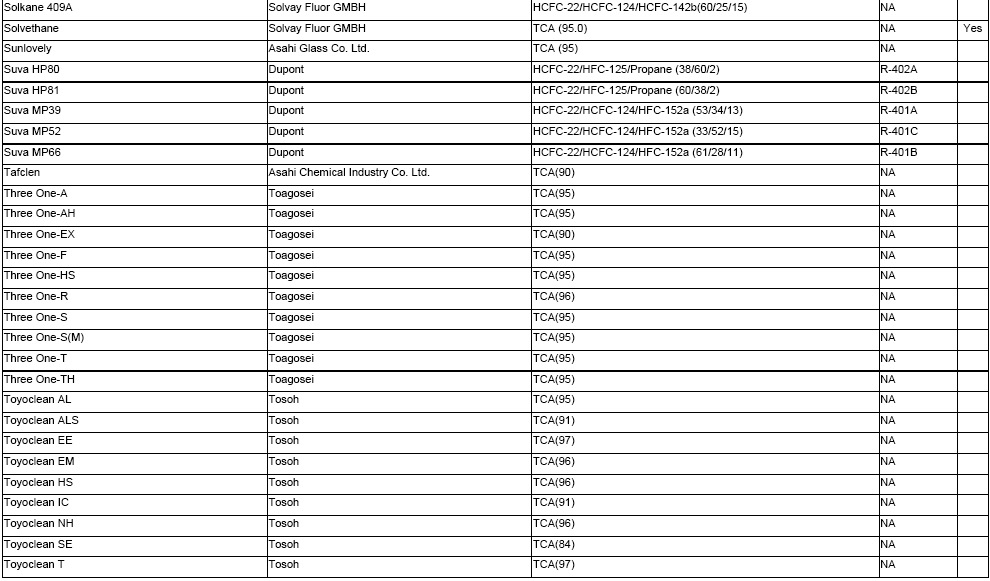 Single Component Ozone Depleting Substances